And The Award Goes To… – The Environmental Leadership Platinum Award in Brooklyn Park Minnesota
We are proud to announce that Rapids Honda has received the Environmental Leadership Platinum Award in Brooklyn Park, Minnesota! This is a prestigious honor as it proves to be the highest level of achievement that showcases our commitment to the environment. This award graces dealerships that show impeccable organizational, corporate, and individual leadership in reducing carbon pollution, while also addressing climate change in their operations.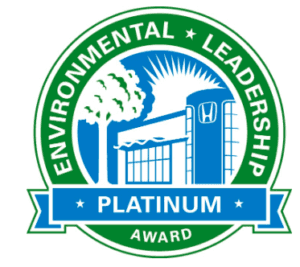 While we have plenty of fuel-efficient vehicles and products that aid in reducing pollution, our Green Dealer Program takes it one step further by measurably reducing all of Honda's dealer's environmental impact. That includes Acura automobile, Power Equipment, and Powersports as well. Across the United States, Honda and Acura dealerships diligently reduce their energy and water consumption, and this Green Guide isn't just for Honda. This program is a roadmap that any business owner can use if they wish to reduce their carbon footprint. 
This matters because buildings alone account for about 40% of CO2 emissions and energy consumptions in the United States, and of course, auto dealerships consume significant amounts of energy. With service centers, showrooms, body shops, and car washes, typical efficiency guidelines can't assist with a dealership's needs. This is why Honda developed the energy reduction program specifically for dealerships, and will also be releasing the guide so more than 17,000 dealerships across the U.S can utilize these methods. 
Although it takes several months to create the award plaque, we will soon be showcasing a banner and window clings to showcase our Environmental Leadership Platinum Award in Brooklyn Park, Minnesota. So if you're ever in the market for a Honda and want to have a positive impact on the environment, come to Rapids Honda for all your vehicle needs!